The Italian Welfare League (IWL) has been serving the needs of Italian New Yorkers and their families for over 100 years. IWL's mission is to lend a helping hand to those children most needy within 'la famiglia' (the family). ACLD's relationship with IWL began in 2008. From 2008 to 2021, IWL donated approximately $197,000 to ACLD's children supported with autism, learning, and other developmental disabilities, all of Italian heritage. These donations have been used in the past to help cover the costs of medical supplies, treatments, therapies, school supplies, extracurricular activities, and even summer camp enrollment fees.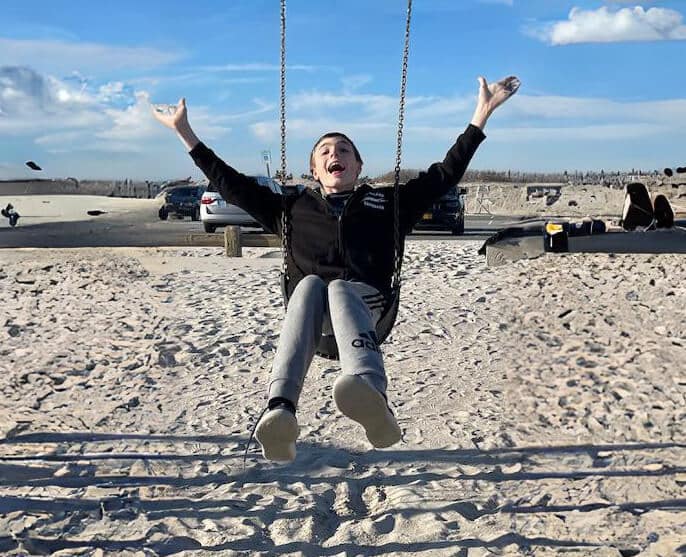 In 2021, 12-year-old Michael was able to attend Suffolk YJCC in Commack during July, thanks to IWL's generosity. "After so many restrictions on his activities and socialization due to the pandemic, having the opportunity to attend camp was such a blessing," says Mary, Michael's mother. Some of Michael's favorite activities at the camp were swimming in the indoor pool, rock climbing, and playing in the bouncy house outside. In November of 2021, IWL generously donated $24,000 to support the 'bambini' of ACLD. ACLD is grateful for IWL's ongoing dedication to provide these children with enviable lives.
The Best Move I Ever Made
"I first became involved with ACLD in the 90s. I lived at the Roslyn Home for many years before moving into an apartment several years ago. Living there allows me to be more independent and have a place of my own. Moving into the Apartment Program was the best move I ever made."
Abby Levinson at the 2022 Annual Enviable Life Ball
Michael Finn: Living His Enviable Life
"He really wants to help you. He'll go and hang out with the new guys and the instructors. And if you're new, and you meet him, that's it, you instantly fall in love with him."
James "Jimmy" Maroldo, Chief, Massapequa Fire
Excerpt from Enviable Life News Volume 7, Number 2