Michael Finn: Living His Enviable Life
"17 years ago, I was on truck 664 and the guys say, 'Jimmy, you see this kid over on the bicycle that follows the rig all the time?' I say 'No I haven't. What are you talking about?" These were the opening words of Chief James 'Jimmy' Maroldo's speech at the 2020 North Massapequa Fire Department's installation dinner on October 6, 2021.
"A few days later," Maroldo continues, "we're on our way back from a call and I see the gentlemen on his bicycle right in front of our firehouse, so I hop out and walk across the street." Maroldo introduces himself to the boy, who says his name is Michael. Michael was standing there with his bicycle, which he had taped a blue light to the front of it, that would flash as he followed the rigs. Maroldo invited him to come into the Firehouse. "When we get there, I see Mikey has put on someone's gear. I said, 'What's going on?' and Mike Cerullo said, 'I just put my gear on him, and he said, 'Maybe now I'll get some friends." There was an exhale of compassion in the room, as Maroldo held back tears. "Well, he's been my best friend ever since."
Michael Finn has been receiving support from ACLD since 2010, working at Home Depot in Levittown through the Vocational Program and receiving Community Habilitation. But
Finn's real passion lies within the North Massapequa Fire Department, located just a few blocks from his home. And it is this passion, perseverance, and willingness to serve that defines Finn's enviable life.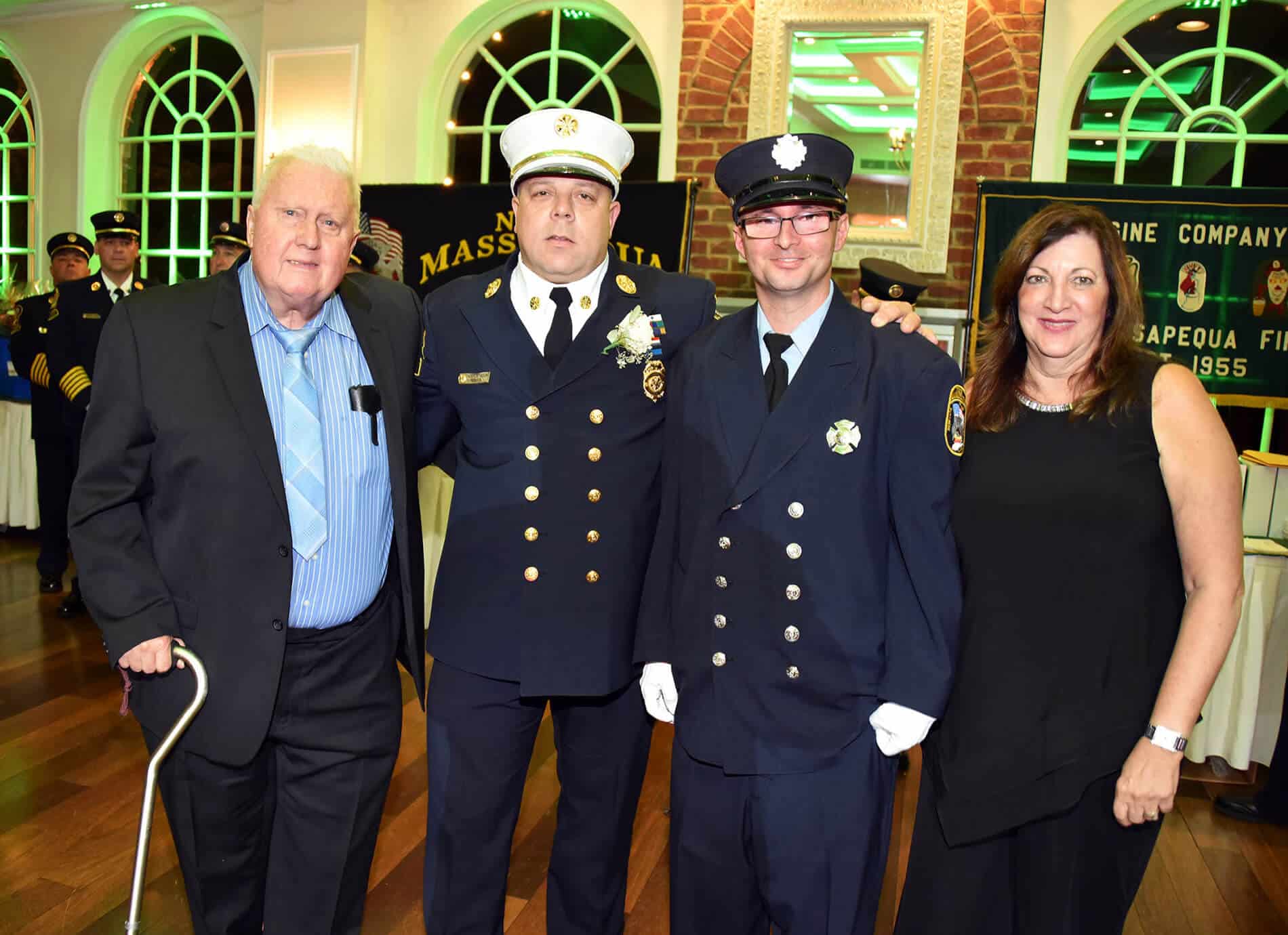 According to Finn's mother, her son has wanted to be a firefighter for as long as she can remember. "I have no idea where it came from," she says. Finn's mother shared that at a very young age her son needed glasses, but was not keen on wearing them. After much back and forth, the doctor said to him, "If you wear your glasses, then you'll be able to see the firehouse", and with that Finn grabbed the glasses and put them on. Finn has only ever had eyes for the North Massapequa Fire Department.
After that initial meeting in 2004, Maroldo took Finn, then about 17, under his wing, along with other members of the department like Nick Cerullo, Former Captain of Engine Company 3. "You know what was really awesome?" said Cerullo, "Seeing how excited he was. For things like throwing on the gear, he'd run around that firehouse. He wouldn't take it off!" For Finn, the most important thing was feeling like he was one of them. "Michael wanted nothing more than to have his helmet sooty like a real fireman. So, Jimmy actually went into fires wearing Mikey's helmet, just to get it all sooty!" recalled Cerullo. For safety reasons, Finn never performs any task in emergency situations, but participates in general maintenance, training exercises, and public appearances with the Fire Department in the community.
Maroldo, who has been in fire services for almost 30 years, will do anything for Finn. "I am always thinking about what I can do for him next. He just changed me," says Maroldo. Maroldo shared that he often thinks of Finn as his 'adopted son.' "Of course, he has his real family, but I tell him, he's like my adopted son and he knows I would do anything for him."
Maroldo's actions exemplify just that. Over the last 17 years, Maroldo, along with others have advocated for Finn to become a full member of the Department, and not just an honorary member of Company 3. On the evening of Maroldo's installation, instead of taking the spotlight himself, he turned it all onto Finn and swore him in as an honorary member of the North Massapequa Fire Department. "Nobody thought this could be accomplished," said Cerullo. "No one believed that what Jimmy wanted to do for Michael was possible. No one thought Michael would be accepted. But he was, and Jimmy did what had to be done." The Finn family was invited as Maroldo's guests, and had no idea what he had planned and described it as a "total shock."
With Finn's parents at his side, he raised his right hand, in front of his best friend and repeated the oath. Finn was mouthing the oath along with Maroldo because he knew it so well. "He really wants to help you. He'll go and hang out with the new guys and the instructors. And if you're new, and you meet him, that's it, you instantly fall in love with him," said Maroldo. The feeling is mutual, as Finn's mother describes. "The entire department has been so welcoming to Michael," she says. "They always look out for him and keep him safe."
Finn has become an indelible piece of fabric woven into the illustrious tapestry of the North Massapequa Fire Department, which has been serving its community since 1934. "All I can say is, I'm just glad I crossed the street and brought him into the firehouse that day," says an emotional Maroldo. "That moment changed my life."
The Best Move I Ever Made
"I first became involved with ACLD in the 90s. I lived at the Roslyn Home for many years before moving into an apartment several years ago. Living there allows me to be more independent and have a place of my own. Moving into the Apartment Program was the best move I ever made."
Abby Levinson at the 2022 Annual Enviable Life Ball