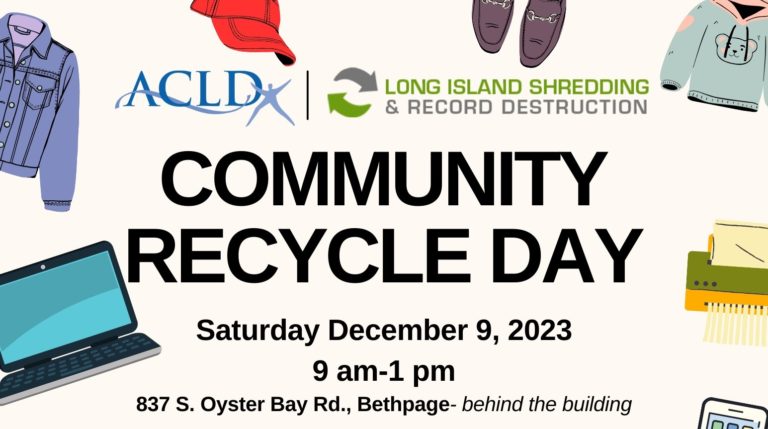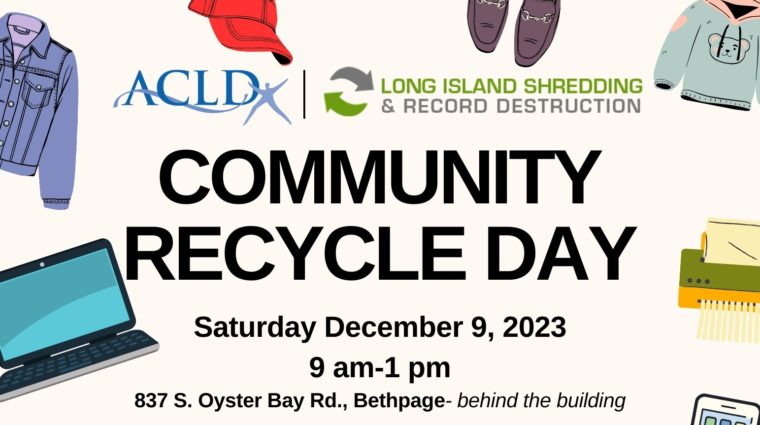 Make room for the holidays! Adults and Children with Learning & Developmental Disabilities (ACLD)'s RewearAble, is partnering with LI Shredding & Record Destruction to host a Community Recycle Day drive on Saturday, December 9th. The event will be held at ACLD's Bethpage campus, located behind the building at 837 S. Oyster Bay Road, Bethpage. ACLD's Recycle Day will accept clothing, e-waste and will offer record destruction (paper shredding) at this free event.
ACLD's RewearAble Program is a clothing recycle initiative that creates employment opportunities for adults with autism, learning and developmental disabilities. Community members can come down to the Recycle Day from 9 am to 1 pm, and drop off clothes, shoes, handbags, bedding, belts, coats, hats, scarfs and gloves, household items- tablecloths (cloth), cloth napkins and placemats, bathing suits, towels, coverups, and baseball hats.  LI Shredding & Record Destruction will be on hand to accept eWaste such as small appliances, hard drives, computers, laptops, iPads, cell phones, TV's, monitors, fax machines, video games. Shredding of personal documents will also be accepted at this drive.
Can't join us on Recycle Day?
Call RewearAble to schedule a pick-up of clothing at:
(516) 822-2099
Please note RewearAble cannot accept ewaste or paper after Recycle Day
RewearAble accepts the following items:
Clothing
Shoes
Handbags
Belts
Baseball Hats
Coats
Hats, Scarves & Gloves
Tablecloths (cloth only)
Cloth Napkins
Cloth Placemats
Bathing Suits
Coverups
Bedding
Towels
RewearAble accepts items in any size or condition
We cannot accept  furniture, toys, games, books, cookware, pillows, appliances, rugs, cutlery  or any breakable items such as china sets. toner cartridges, DVDs, video and audio cassettes, Freon-containing appliances (refrigerators, freezers, air conditioners, dehumidifiers, etc.), large stereo speakers (extra-large wooden-box speakers) batteries, hazardous waste (mercury-containing devices, thermostats, thermometers, smoke detectors, liquids and gasses, fluorescent tubes, etc) or lightbulbs of any kind including incandescent, fluorescent, halogen, and light-emitting diode (LED).